A well-designed kitchen can be a joy to cook in while also providing an inviting space for friends and family to get together.
Sometimes a little remodeling can go a long way. We spend so much time in our kitchens, why not make life's daily tasks a delight instead of a chore?
Whether your vision includes knocking down walls to create an open floor plan, rearranging your existing space to be more functional and harmonious, or adding storage, we can help turn your kitchen into a beautiful gathering place.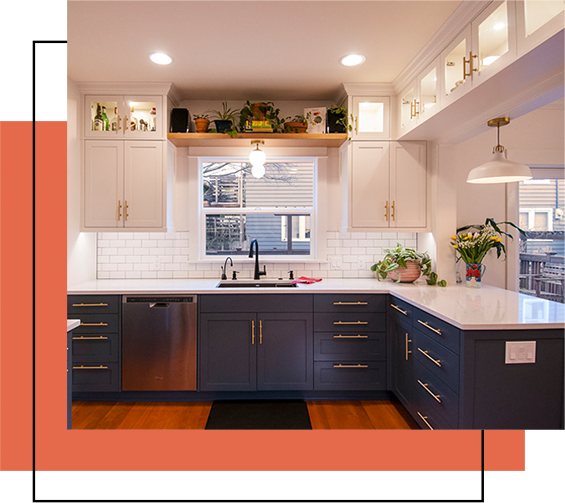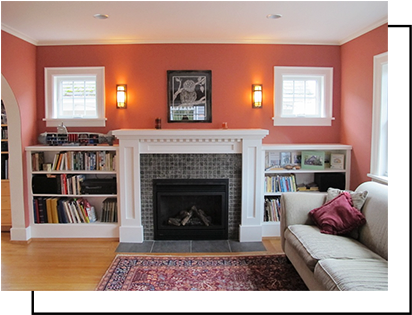 "Katherine was a delight to work with and so effective at working with contractors and the building department. She was full of great ideas and made the project to level and renovate our living room flow smoothly. She was always at least one step ahead, working with us progressively to nail down details and maintain momentum.
We enjoyed working with her so much we worked with her again for our bathrooms. She discovered extra spaces for storage and layout alternatives that made them infinitely more functional than the originals. And, her interior design inspiration made spaces that were beautiful and modern, yet still in keeping with our 1924 home. We would recommend her for projects big and small, structural and detailed, with goals for both interior and exterior appeal and function."
Testimonial ~ Chris Potter
Enjoy Spending Time in
Your Bathroom
We have worked with bathrooms of all sizes and shapes. Whether you are looking to do a simple refresh or start from scratch we can help you make your ideas come to life and turn your bathroom into a space that fits your lifestyle.
A remodeled bathroom adds value to your home, updates its style, increases storage, and makes it better adapted to your current needs.